Table of Contents
Picture this: the sun is setting on a warm evening, you're surrounded by friends and family, and the delicious aroma of grilled steak fills the air. But this isn't just any ordinary steak; this is palomilla steak, a traditional dish from the vibrant and flavorful cuisine of Cuba. With its tender and juicy cut of beef, flavorful marinade, and a side of sautéed onions, this steak is the perfect centerpiece for any backyard barbecue or family dinner. And the best part? It's easy to make at home, even for beginner grillers. Get ready to transport your taste buds to the sunny shores of the Caribbean with our irresistible recipe.
Bringing the Flavors of Havana to Your Plate
Transport your taste buds to Havana with this delicious Cuban Palomilla Steak recipe. Thinly sliced and seasoned with a flavorful marinade, this steak is grilled to perfection and served with a side of sautéed onions for an authentic Cuban dining experience. Ready to spice up your dinner routine? Let's get cooking!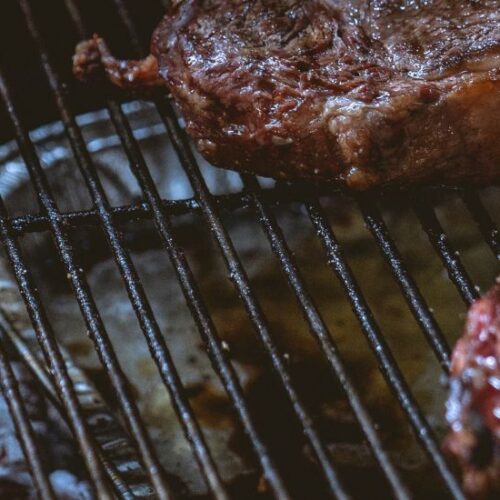 Palomilla Steak
Popular Cuban dish in many Latin American Countries, made from thin cuts of beef steak, usually top sirloin or flank steak, that are marinated and grilled or pan-fried. The steak is often served with sautéed onions and a side of white rice, black beans, and fried plantains.
Here is a simple recipe for making Cuban steak:
Ingredients
4

oz

4 thin top sirloin steaks

4

Garlic cloves

1/4

cup

Lime juice

Minced fresh

1/4

cup

Olive oil

1/4

cup

Chopped fresh parsley

Salt and pepper to taste

1

Large onion sliced

2

tbsp

Olive oil
Instructions
In a bowl, mix together the garlic, lime juice, olive oil, parsley, salt, and pepper to make the marinade.

Place the steaks in a shallow dish and pour the marinade over them, making sure the steaks are well coated. Cover and refrigerate for at least 30 minutes, or overnight for best results.

Heat a grill or a large skillet over high heat. Remove the steaks from the marinade and discard the marinade.

Cook the steaks for about 2-3 minutes per side, or until browned and cooked to your liking.

In a separate skillet, heat the remaining 2 tablespoons of olive oil over medium heat. Add the sliced onions and sauté until they are soft and caramelized.

Serve the palomilla steaks hot, topped with the sautéed onions.
Tips

Make sure that the skillet is hot before adding the steaks. This will help to create a nice sear on the outside of the meat.
If you prefer your steak cooked to a certain level of doneness, use a meat thermometer to check the internal temperature of the meat. For medium-rare, the temperature should be around 145°F.
You can also marinate the steaks in a mixture of olive oil, lime juice, garlic, and spices for a few hours before cooking to enhance the flavor even further.
History
Cuban Palomilla Steak, also known as Bistec de Palomilla, is a popular dish in Cuban cuisine that has a rich history. The dish originated in the central regions of Cuba and was traditionally made with beef from Palomilla, a cut of meat taken from the top sirloin. The meat was pounded thin and marinated in a blend of garlic, citrus, and other spices before being cooked over a hot grill or skillet. The dish quickly gained popularity and became a staple in Cuban households and restaurants, eventually spreading to other parts of the world as well. Today, Steak is enjoyed by many as a delicious and flavorful dish with a unique cultural heritage.
Exploring the matching names
Palomilla steak is a popular dish in Cuba and Latin America, and it is known by different names in various regions. Some of the different names for steak include bistec de palomilla, Cuban palomilla steak, steak palomilla, palomilla carne, carne palomilla, bistec cubano, and Cuban steak palomilla. It may also be referred to as palomillo steak, palomia steak, or simply palomilla. Regardless of the name, the dish typically features a thin cut of beef, seasoned and grilled to perfection.
Conclusion
Cooking palomilla steak is a simple and delicious way to enjoy a traditional Cuban dish. With just a few ingredients and some basic cooking techniques, you can create a meal that is sure to impress your family and friends. Whether you're looking for a quick and easy weeknight dinner or a dish to serve at your next dinner party, it is a great choice. So grab some steaks and get cooking!
What is palomilla steak?
Palomilla steak is a thin, tender cut of beef that comes from the top sirloin. It is a popular dish in Cuban cuisine and is typically seasoned with garlic, lime juice, and salt before being pan-fried or grilled. The steak is often served with rice and black beans, plantains, and a side salad. In Cuban culture, palomilla steak is a favorite comfort food and is often enjoyed with family and friends during special occasions or gatherings.
How to cook palomilla steak?
Palomilla steak is a popular Cuban dish that is enjoyed by many people around the world. This thin cut of steak is tender and full of flavor, making it a great choice for any meal. If you're looking to learn how to cook palomilla steak, you're in the right place. In this guide, we'll show you step-by-step how to prepare and cook this delicious dish.
Latest posts by Aqeela Sarfraz
(see all)